ENTRUST WITH THE BEST NGO FOR PRISONER REFORMATION & REHABILITATION
Most of us have spine-chilling psychology on hearing the terms, 'prison' and 'prisoners'; and we are wavering to even talk about them. How can we think of coming forward to their help and support in any manner? Yes, we can of course! We can become a part of correctional programming for prisoners, that sets a holistic model of transforming prisoners as productive citizens and rendering opportunities and support system for their post-release reformation for a crime-free society. For this, we need to understand and know the actual scenario, we should have knowledge about the different kinds of prisoners and consider them as a potential human resource who are part of the same society. It is difficult for prompt acceptance but if you are inquisitive, then one should know the three categories of people who are visiting jail for confinement that include
Hardcore criminals
Circumstantial offenders
At time innocents
According to recent statistics, over 1400 jails are existing in India with over 4 lakh inmates of every age group. We need to imagine how much productivity could be achieved through the massive number of people who are sent for confinement. Despite having a differentiated background or mindset, we can at least initiate a small step (which can turn into a grand service) in endeavour towards the set goal.

There is a stigma attached with the word- Jail, and at times innocent people who are incarcerated often get depressed and lose hope after getting confined. They have multiple thoughts coming in their minds and often face a plethora of problems including substance addiction, mental or psychological imbalances, anger and aggression and emotional emptiness due to deprivation of family. This leads to offending conduct and might be problematic to the rest of the crowd. Similarly, circumstantial offenders and hardcore criminals might get addicted to that behaviour and habits which they have not been into before. This leads to a destructive society due to harmful attitudes. Therefore, it is important to address these issues and jails should connect with the best NGO for prisoner reformation and rehabilitation.
There are multitudinous correction methods which are adopted by institutions such as self- awareness programs, drug abuse prevention and treatment, recognizing employable skills and providing employment which assist in post-release livelihood. As a matter of fact, it's an area of concern; and organizations which are already engaged in transforming and rehabilitating prisoners have been doing a virtuous task and are very much involved in Corporate Social Responsibility (CSR).

HOW CAN WE ALTER PRISONERS INTO A CONSTRUCTIVE MIND
It is possible gradually if not instantly to convert a mind full of chaos and destruction into a peaceful and constructive mind. We need to follow three major steps including connection, empowerment and transformation. Building trust amongst each other and having the ability to encourage the prisoners towards the betterment of self and society shall certainly play an imperative role in transformation. In a prison, there exists a wide variety of people such as who can be changed and also whose mindset is apathetic. However, we should focus on continuous efforts of showing them the correct path and in this process, we never know some indifferent minds can benefit too to some extent.
Established with a similar motto, Antarkranti, an initiative of Divya Jyoti Jagrati Sansthan, came into existence in the year 1995. It works towards prisoner reformation and rehabilitation through a variety of channels. With involvement in providing psychological counseling, skills and employment, educational opportunity and post-release short stay facility, it has come up a long way and continually striving to offer a peaceful transformation for prisoners. It is highly responsible for conducting correctional programming for prisoners that include self-awareness, drug abuse prevention and treatment and helping acquire employable skills so that they not only get employment during imprisonment but also secure a dignified life post-release.
Prisoners getting engaged in the creation of numerous products which are bought by people outside the jail, is a huge success towards achieving the objective. The products such as natural herbal gulal, herbal face pack, incense cones, incense sticks, miswak sticks, face packs, aroma gift pack, handwash, gift sets, potpourri, etc. are some of the very useful outputs applicable in day to day lives. It is way better to get indulged in the utilization of one's efficiency rather than getting influenced by idleness and negative talks. Besides this, a holistic model is created by institutions to give the prisoners 'Brahm gyan' with the help of yoga and meditation. This is scientifically proven how it helps a human brain to become peaceful and balanced. There are other activities held including life skills workshop, music training, theatre workshops, gardening, poster making, bhajan competitions, etc. that instils self-confidence and become a source of earning a livelihood. Involving a huge number of prisoners in these activities helps in cooperative behaviour, inculcate healthy and fruitful habits and internal healing via magic transformation.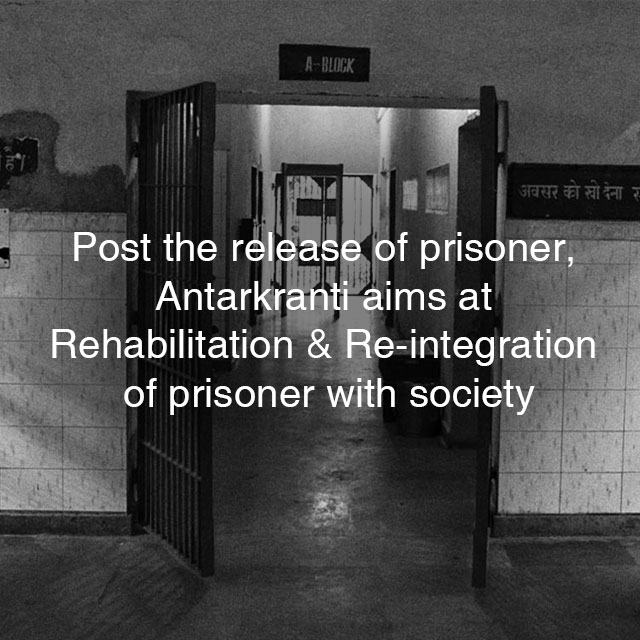 NGO for Prisoner Rehabilitation in India.
Ensuring Employment
Preparing for work through vocational/on the job training and employment during incarceration, employment in Antarkranti & networking with other organizations for absorbing released prisoners.

Education Support
The needy released prisoner/children of prisoner are provided education sponsorship for continuing of education, ensuring a sense of security and sign of freedom for their future. Free admission, free text books, tutor and stipend are arranged on behalf of the program.

Psychological Support
Emotional and psychological support makes them feel welcomed back to the mainstream society with respect and joy. They feel liberated rather than stigmatized. Antarkranti helps them in this venture by; Facilitating family reunion and continuous interactions
Sensitization of the
Society towards the Cause
A ruthless action of society towards this stratum would never rehabilitate and reintegrate them completely.The general public needs a high level sensitization for accepting the prisoner & family back to society. Sharing of people responsibilities in creating opportunities for the beneficiary will provide a comfortable space for their growth and development. In this regard, sensitizing workshops, conferences & seminars are often organized by the program self or in collaboration.